Specialty Weeks at Burnt Well Ranch
Regulator Ride Camp Out
August 18-23, 2019
In August 2017 and 2018 we had what we called a 'Regulator' ride and campout week. We are going to do it again. It will be a 5 day event, arriving Sunday afternoon, August 18 and departing Friday August 23. Some of the country we will be riding in could have steep and rugged terrain with some challenging moments. This is not a trail ride, we will be "exploring" horseback through historic ranch country of Lincoln County. Probably not a good fit for beginner riders or riders who expect a completely controlled environment.
We will have a beautiful camp spot close to Fort Stanton, the historic Calvary post near Lincoln in Billy the Kid country. We will spend our time exploring this area horseback, as well as visiting Lincoln (the preserved ghost town where Billy the Kid escaped from jail and the hub of the Lincoln County War) and its various museums, we also plan to find the murder site of John Tunstall.
Some of the wildlife you may be privileged to see could be deer, elk, coyotes, rabbits, etc. This ride lends itself to more flexibility than a cattle drive. It's 'adventure component' is more in the terrain we will be riding through and the nature of exploring new country where you might not always know what's around the bend.
We will provide you with a horse, tack, 'cowboy' bedroll (a 3" mattress made up with sheets, blankets and wrapped in a canvas tarp), 'cowboy' teepee, cot (if you want to sleep under the stars but are a little squeamish about being right on the ground), all the scrumptious campfire/dutch oven cooking you can hold, and as much creature comforts as we can pack into our rig! You just need to worry about bringing your clothes, riding gear and a spirit of adventure!
Tentative itinerary:
Sunday, Aug. 18 – 'afternoon' arrival, stop by the ranch to pack your things in the 58 qt plastic tub (what you can pack in the tub is what you can take on the ride). Travel to the campsite (1 ½ hour car trip), arrive in time for your first Dutch oven supper. Campfire and get acquainted under the stars.
Monday, Aug. 19- ride to petroglyphs and waterfall
Tuesday, Aug. 20- ride to and explore Ft. Stanton
Wednesday, Aug. 21 – ride to and explore Lincoln
Thursday, Aug. 22 –break camp, ride to hwy 380, travel to and search for the John Tunstall murder site. Head back to Burnt Well Guest Ranch for showers, relaxing, our first indoor meal of the week and lots of stories!
Friday, Aug. 23 – breakfast and farewells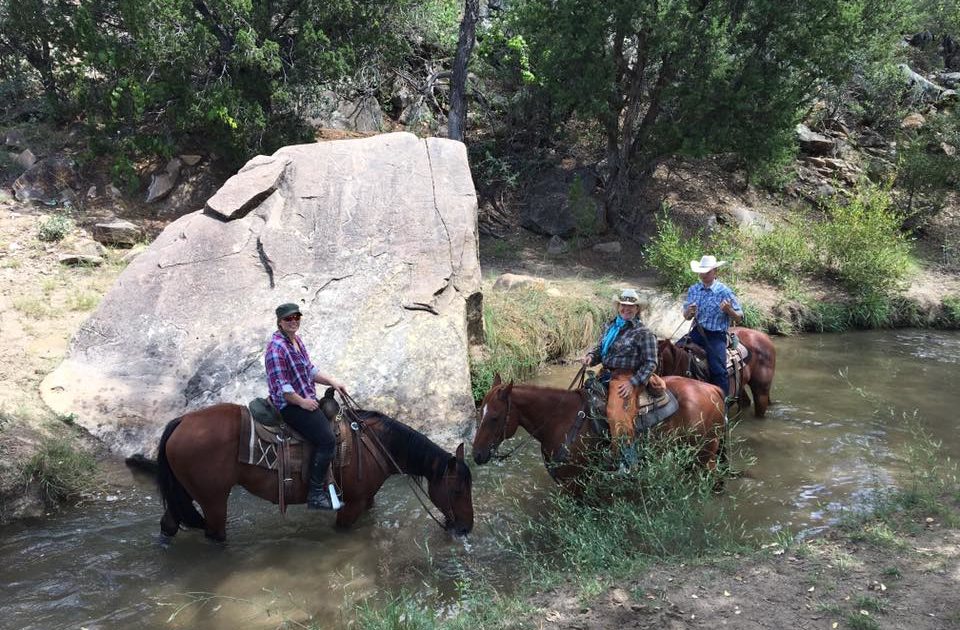 "We took part in last years Regulators Camp, I want to say how amazing it was I want to recommend it you anyone who wants to experience a unique outdoor week in the experienced hands of Kim and Patricia. It is a once in a life time experience!"
– Alison Bucknell, UK
Rates & Booking Information
Package Details
Five-day event, afternoon arrival
Cost per person $2,100 plus tax
Prices include meals, horse & tack, bedroll, etc.
Space is limited to 8 guests, based on deposit received
Free airport transfer from the Roswell Airport
Booking & Cancellation Policy
All prices are subject to 6.5208% New Mexico gross receipts tax
20% deposit required upon booking; balance due 14 days prior to arrival
Deposit is non-refundable but may be applied to a future visit within one year if cancellation is made more than 30 days prior to arrival date
Cancellations received less than 30 days prior to your arrival time will forfeit the future use or your deposit due to inability to refill your spot, and cancellations made less than 7 days of your arrival date forfeit all fees that have been paid to Burnt Well
Gratuities are appreciated
Physical Requirements
You must be physically fit and have some riding experience in order to participate due to the terrain. If you have doubts about your riding ability, please know that you are always welcome at Burnt Well for a regular ranch stay. There, we can tailor your stay to your needs and wishes. As stated above, regular ranch stays can include as much riding as you wish in a more controlled environment. There's always the need to drive cattle but on a regular ranch stay, we are much more laid back and able to be more flexible.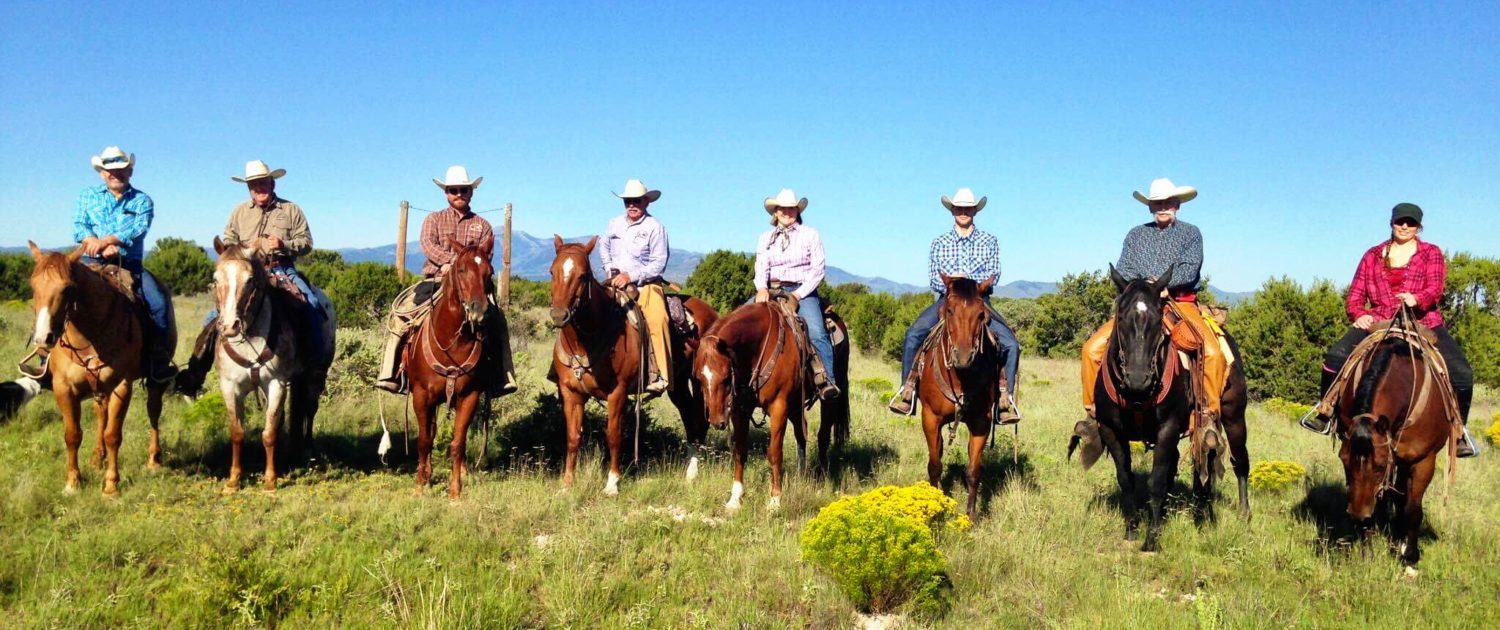 Check it out
There's More to Explore